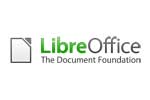 LibreOffice is an open source project which includes six applications programs. It's compatible with many Microsoft documents.
The newest version, is now out, and it looks and feels much more like its Microsoft counterparts. The programs included in LibreOffice are:
Writer: A word processor, it's the equivalent of Microsoft Word. Calc: A spreadsheet program, its equivalent of Excel. Impress: Presentation software, it's the equivalent of Microsoft PowerPoint. Base: A database, it's the equivalent of Microsoft Access.Draw: A design program, especially useful for flowcharts. Math: A simple tool for equations. Charts: A program for creating and embedding charts and graphs.
Combined, they make for a powerful suite of programs. It also works with Microsoft's 'docx' standard, which most free office software isn't compatible with.
Download Libre Office here